Oakland Packaging Has Become Cogent Solutions & Supplies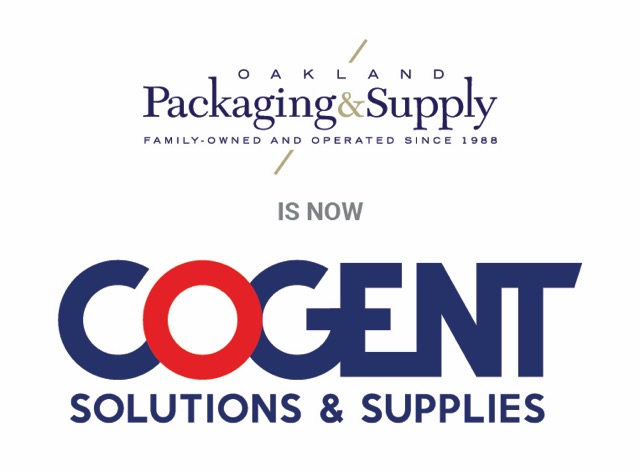 We have exciting news to share! After 30 wonderful years of business as Oakland Packaging & Supply, we have changed our name to Cogent Solutions & Supplies. The Oakland name has served us well, but the time had come for a name and brand that more appropriately represents who we are today, where we are going and the full value we bring to our customers. Cogent — defined as clear, logical and convincing — reflects the benefits we offer today. We are the partner that delivers more clarity, more guidance, more expertise and more certainty to your company and your supply chain.
We now provide more than packaging and supplies. You can rely on us as your single source for all the packaging, food service supplies, food processing supplies and facility supplies you need. But we also offer solutions that help you optimize your operations, including:
Custom packaging design
Program consulting and design
Logistics and warehousing
Equipment sales, guidance and repair
Another reason for the name change is that we've shifted our operations over the years from Oakland to our locations in Richmond, Sacramento and Los Angeles. Today, we serve companies across Northern, Central and Southern California with the reach to deliver nationwide.
Accompanying our new name is a fresh new logo, a new look and an all-new website. But what hasn't changed one bit is our ownership, our leadership, our team or our commitment to you. We're still the same family-run, independently owned business built on integrity and mutually beneficial relationships that you have come to know and trust over the years.
We look forward to further strengthening those relationships as we embark on this exciting new chapter for our company.